UNIZIK Screening Exam: See How To Calculate Nnamdi Azikiwe University, UNIZIK  Post UTME Aggregate Score and Know Your Chance Of Admission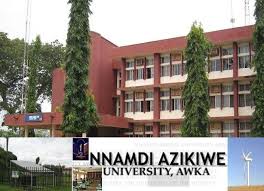 The aim of this post is to show all unizik aspirants how they can calculate their post utme aggregate score and know if they have chance of gaining admission into the school.
Outlined below is an example showing how to calculate UNIZIK Post UTME Aggregate Score. If you have seen your JAMB result as well as your UNIZIK Post UTME result, you should be able to carry out the calculation below for yourself:
CALCULATION FORMULA USED FOR THE POST-UTME 2021/2022 ADMISSIONS SCREENING EXERCISE UMTE CANDIDATES:
Candidates will be screened based on their JAMB scores and O'level result for the four subjects taken in JAMB. The following considerations will apply:
A. RATIO – The ratio will be 70:30. i.e 70% JAMB score and 30% O'level subject score: 70/100 = 0.7; 30/100 = 0.3
B. RANKING OF O'LEVEL SUBJECTS SCORE – O'level results will be ranked as given below:
A1= 90,
B2= 80,
B3= 70,
C4= 60,
C5= 55,
C6= 50,
D7= 25,
E8 to F9=0,
Awaiting Result (AR) =0
For each candidate, the O'level subjects used will be the subjects the candidate sat for in JAMB. E.g. for a candidate who sat for English, Mathematics, Chemistry and Physics in JAMB, the grades obtained in candidate O'level results in these subjects will be used to calculate the O'level points obtained.
C. BONUS – A candidate who credited his four subjects in a single sitting will get a bonus of 10 points (i.e. Bonus =10). A candidate who credited his four subjects in two sitting will get no bonus (i.e. Bonus = 0).
D. CALCULATIONS – Final score = [(JAMB SCORE`* 0.7) + [(O'level score + Bonus)*0.3]
Illustration: A student scored 280 in JAMB and had O'level results distributed as given in the table below:
Note to Mobile users: Scroll to the side to view all the contents in the table below:
| | | | |
| --- | --- | --- | --- |
| SUBJECTS | JAMB SCORES | O'LEVEL RESULTS | O'LEVEL SCORES |
| English | 66 | A1 | 90 |
| Mathematics | 78 | B3 | 70 |
| Physics | 70 | B3 | 70 |
| chemistry | 66 | C5 | 55 |
| TOTAL | 280 | | 285 |
I. Single sitting:
Final score= Weighted JAMB score + Weighed O'level score
(280 x 0.7) + [ (285 +10) x 0.3]
= 196 + 88.5
= 284.5
II. Two sittings:
Weighted JAMB score + Weighed O'level score (280 x 0.7) + [ (285+ 0)x 0.3]
= 196 + 85.5
= 281.5
Note: The difference between the final screening scores of a candidate who credited his four subjects in a single sitting and the candidate who made it in two sittings is 6 (i.e 284.5- 281.5).
Stay tuned for I will be posting Nnamdi Azikiwe University, UNIZIK 2021/2022 departmental Cut-off point soon.
The choice of a university depends on many factors which may vary with individuals. Few of many reasons people give why they choose UNIZIK are as follows:
UNIZIK is situated in an easy accessible area from all different locations
UNIZIK is a federal University; the fees are affordable, unlike the state owned universities where they pay exorbitant fees.
UNIZIK is the only university in the south-east where Electronics and Computer Engineering has been accredited by the National Universities Commission and COREN.
In UNIZIK, admission is strictly by merit.
The environment is intimidation and harassment-free, giving no room for cult activities. One can walk around freely at anytime of the day without fear of molestation, and this goes a long way to suggest that the security network is very active.
Finally, it is the wish of every student to graduate as and when due with good grades; UNIZIK is known to support this, as it runs an uninterrupted academic calendar year in year out.
The transportation system in UNIZIK can only be described as effective and efficient.
Tags: How To Calculate UNIZIK Aggregate Score For Admission, How To Calculate UNIZIK Post UTME Aggregate Score, Nnamdi Azikiwe University Awka. Unizik | www.unizik.edu.ng