Best Secondary Schools in Ghana 2020. Finding the correct senior high school for your child is never a walk in the park particularly if they are several and all promising to deliver your child's needs and wants.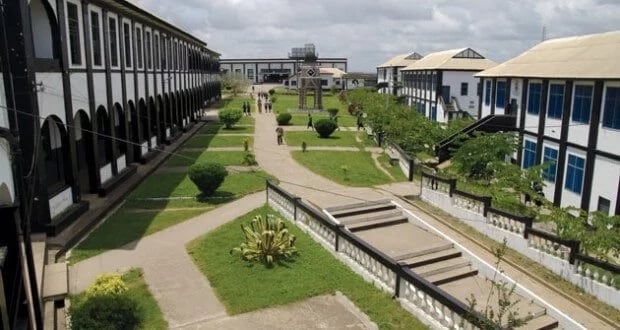 You want your ward to get the highest quality of education and grow into a responsible adult in the future. If quality and affordability are your hallmarks, you might waste a lot of time trying to compare many schools so that you get the best for your child.
Right on this spot, I am going to make everything easier for you by providing you a list of 100 secondary schools in Ghana ranked by WAEC that you could choose to take your child to.
Presbyterian Boys' Senior High School

Address/Location: Accra, Ghana

Phone: +233 30 250 0945

Accra Academy

Address/Location: Dr. Busia Hwy, Accra, Ghana

Phone: +233 30 222 1721

Opoku Ware School

Address/Location: 79 Mankessim – Kumasi Rd, Kumasi, Ghana

Phone: +233 32 202 3825

Wesley Girls' Senior High School

Address/Location: PO Box 61, Cape Coast, Ghana

Phone: +233 50 228 8449

Holy Child High School, Ghana

Address/Location: Cape Coast, Ghana

Phone: +233 4232104

Aburi Girls' Senior High School

Address/Location: Aburi, Ghana

Phone: +233 55 638 4254

Mfantsipim School

Address/Location: Cape Coast, Ghana

Phone: +233 24 000 0000

Prempeh College

Address/Location: Western By-Pass, Kumasi, Ghana

Phone: +233 20 573 6772

Thomas Aquinas Senior High School

Address/Location: Cantonments Rd, Accra, Ghana

Phone: +233 30 277 6801

St Roses Senior High

Address/Location: Bawdua, Ghana

Phone: +233 50 431 5252

Wesley Grammar Senior High School

Address/Location: Accra, Ghana

Phone: +233 30 230 1040

Kumasi Girls Senior High School

Address/Location: Kumasi, Ghana

Yaa Asantewaa Girls' Senior High School

Address/Location: Asuoyeboa, Kumasi, Ghana

Pope John Senior High School and Minor Seminary

Address/Location: Koforidua-Nsutam Rd, Koforidua, Ghana

Phone: 0708 224 4925

Koforidua Senior High Technical School

Address/Location: Koforidua, Ghana

Phone: +233 24 489 6483

Achimota School

Address/Location: Achimota, Ghana

Phone: +223 66 76 70 50

Presbyterian Senior High School, Osu

Address/Location: Eben-ezer Presbyterian Church, Salem Ave, Accra, Ghana

Phone: +233 50 228 8449

Krobo Girls Senior High School

Address/Location: Krobo Odumasi, Ghana

Phone: +233 23 315 9211

Keta Senior High Technical School

Address/Location: Keta, Ghana

Phone: +233 55 266 3685

Archbishop Porter Girls Secondary School

Address/Location: Sekondi-Takoradi, Ghana

Phone: +233 30 251 2869

OLA Girls Senior High School

Address/Location: Market Road, Mvule Street, Ho, Ghana

Phone: +233 36 202 6224

Ebenezer Senior High School

Address/Location: Samanea Rd, Accra, Ghana

Phone: +233 30 230 3932

Ghana National College

Address/Location: Ghana National college, Cape Coast, Ghana

Phone: +233 55 364 6952

Ghanata Senior High School

Address/Location: Dodowa, Ghana

Phone: +233 24 701 6143

Chemu Senior High School

Address/Location: Fourth Ave, Tema, Ghana

Phone: +233 30 320 6903

Augustine's College

Address/Location: Beulah Rd, Cape Coast, Ghana

Phone: +233 33 213 2733

Christian Methodist Senior High School

Address/Location: Aplaku, Ga West, Ghana

Phone: 054 590 1858

Faith Montessori School

Address/Location: 152 Nii Kpakpa Osiakwan Road, Gbawe, P.O.BOX 15063 AN, Accra, Ghana, Ghana

Phone: +233 30 233 1275

Kinbu Secondary Technical School

Address/Location: Kinbu Road, Accra, Ghana

Phone: +233 30 342 5632

Galaxy International School

Address/Location: Boundary Rd, Accra, Ghana

Phone: +233 30 254 3027

Accra Girls Senior High School

Address/Location: Nima Road, Accra, Ghana

Phone: +233 50 228 8449

SOS-Hermann Gmeiner International College

Address/Location: School Rd, Ghana

Phone: +233 24 369 0197

Mawuli School

Address/Location: Adaklu Rd, Ho, Ghana

Phone: +233 36 202 3221

Ghana Senior High School, Koforidua

Address/Location: Efiduase, Koforidua, Ghana

Phone: +233 20 370 9095

Liberty American School

Address/Location: Nii Klu Osae Ave, Otinshie, Ghana

Phone: +233 57 460 5722

Bishop Herman College

Address/Location: Ghana

Phone: +233 20 175 5055

La Presbyterian Senior High School

Address/Location: By-Pass Rd, Accra, Ghana

Phone: +233 30 728 8778

Ghana International School

Address/Location: Second Circular Rd, Accra, Ghana

Phone: +233 30 277 7163

Lincoln Community School

Address/Location: N126/21, Accra PMB CT 354, Ghana

Phone: +233 30 221 8100

Nungua Senior High School

Address/Location: Accra, Ghana

Phone: +233 30 271 2033

Aggrey Memorial A.M.E. Zion Senior High School

Address/Location: Accra – Cape Coast Rd, Ghana

Phone: +233 55 967 2060

Paul's Senior High School

Address/Location: Ghana

Phone: +233 50 769 6119

St Martins Senior High School

Address/Location: Nsawam- Adoagyiri, Nsawam, Ghana

Phone: +233 20 509 2328

Benkum Secondary School

Address/Location: Larteh, Ghana

Phone: +233 55 234 5891

Nifa Senior High School

Address/Location: Adukrom, Ghana

Phone: +233 54 547 4378

Adu Gyamfi Senior High School

Address/Location: Road, Gyamase, Ghana

Adanwomase Senior High School

Address/Location: Ghana

Oyoko Methodist Senior High School

Address/Location: Koforidua-kukurantumi Rd, Ghana

Phone: +233 24 725 6087

Akosombo International School

Address/Location: 6°17'07.0″N 0°03'11. 5th Cres, Ghana

Phone: +233 55 324 8000

James Seminary Senior High School

Address/Location: Unnamed Road, Abesim, Ghana

Phone: +233 20 692 7559

Suhum Secondary Technical School

Address/Location: Suhum, Ghana

Ofori Panin Senior High School

Address/Location: New Tafo Akyem, Ghana

Phone: +233 26 673 7241

Akwamuman Senior High School

Address/Location: Asuogyaman-Atimpoku Rd, Kpong, Ghana

Phone: +233 34 302 0240

Louis Senior High School

Address/Location: Kumasi, Ghana

Phone: +233 57 711 1441

Osei Tutu Senior High School

Address/Location: Akropong, Ashanti, Ghana

Phone: +233 28 951 8955

Juaben Senior High School

Address/Location: Asante, Juaben, Ghana

Phone: +233 54 071 4210

O'Reilly Senior High School

Address/Location: Accra, Ghana

Phone: +233 30 297 3836

Kumasi High School

Address/Location: Ayeduase, Kumasi, Ghana

Phone: +233 55 854 7994

Mawuko Girls Senior High School

Address/Location: Ho, Ghana

Peter's Senior High School

Address/Location: Nkwatia, Ghana

Tema Methodist Day Secondary School

Address/Location: Hospital Rd, Tema, Ghana

Phone: +233 24 121 5846

Abuakwa State College

Address/Location: Kyebi, Ghana

Phone: +233 55 524 8965

Kumasi Anglican Secondary School

Address/Location: Zongo, Kumasi, Ghana

Phone: +233 32 202 8297

Okuapeman Senior High School

Address/Location: Akropong Akuapem, Akropong, Ghana

Odorgonno Secondary School

Address/Location: Odorgonor High Street High St, Accra, Ghana

Phone: +233 24 450 2350

Accra Grammar School

Address/Location: Oyibi, Ghana

Phone: +233 27 700 0034

Manhean Senior High/Technical School

Address/Location: Manhean, Meridian Rd, Tema, Ghana

Phone: +233 26 648 7747

University Basic School, Legon

Address/Location: University of Ghana Stadium, Accra, Ghana

Phone: +233 20 207 5044

Bompeh Senior High Technical School

Address/Location: Axim Rd, Takoradi, Ghana

Phone: +233 24 014 1807

West Africa Senior High School Gate

Address/Location: Ghana

Takoradi Senior High School

Address/Location: Mpatado Road, Takoradi, Ghana

Phone: +233 26 818 5224

Ahantaman Girls Senior High School

Address/Location: Sekondi-Takoradi, Ghana

Phone: +233 31 219 2322

Osei Kyeretwie Secondary School

Address/Location: Kumasi, Ghana

Edinaman Senior High School

Address/Location: Elmina, Ghana

Phone: +233 33 219 3701

Shama Senior High School

Address/Location: Ghana

Sunyani Senior High School

Address/Location: Sunyani, Ghana

Phone: +233 55 438 5614

St Mary's Senior High School

Address/Location: Nii Tackie Owuowuo St, Accra, Ghana

Phone: +233 30 266 3042

Apam Senior High School

Address/Location: Apam, Ghana

Monica's Senior High School

Address/Location: Mampong, Ghana

I. Ahmadiyya Girls Senior High School, Asokore

Address/Location: Effiduase, Ghana

Phone: +233 24 325 9858

Tamale Senior High School

Address/Location: Batco Rd, Tamale, Ghana

Phone: +233 24 994 3868

Islamic Senior High School

Address/Location: Abrepo Rd, Kumasi, Ghana

Phone: +233 55 383 8836

Swedru Senior High School

Address/Location: PMB, Agona Swedru 00233, Ghana

Phone: +233 33 219 1515

Northern School of Business

Address/Location: Tamale, Ghana

Mmofraturo School

Address/Location: Kumasi, Ghana

Kumasi Academy

Address/Location: Kumasi, Ghana

Phone: +233 32 206 0097

Aburaman Senior High School

Address/Location: Abura Dunkwa, Ghana

Phone: +233 24 373 7867

Ayirebi Senior High School

Address/Location: Ayirebi Sen. High School, Akim Oda-ayirebi, Oda, Ghana

Yaa Asantewaa Girls' Senior High School

Address/Location: Asuoyeboa, Kumasi, Ghana

Louis Senior High School

Address/Location: Kumasi, Ghana

Phone: +233 57 711 1441

Pope John Senior High School and Minor Seminary

Address/Location: Koforidua-Nsutam Rd, Koforidua, Ghana

Phone: 0708 224 4925

St Roses Senior High

Address/Location: Bawdua, Ghana

Phone: +233 50 431 5252

Opoku Ware School

Address/Location: 79 Mankessim – Kumasi Rd, Kumasi, Ghana

Phone: +233 32 202 3825

Adisadel College

Address/Location: Cape Coast, Ghana

Phone: +233 33 213 2543

Wesley Girls' Senior High School

Address/Location: PO Box 61, Cape Coast, Ghana

Phone: +233 50 228 8449

Augustine's College

Address/Location: Beulah Rd, Cape Coast, Ghana

Presbyterian Boys' Senior High School

Address/Location: Accra, Ghana

Prempeh College

Address/Location: Western By-Pass, Kumasi, Ghana

Mfantsipim School

Address/Location: Cape Coast, Ghana

Achimota School

Address/Location: Achimota, Ghana

Phone: +223 66 76 70 50

Wesley Girls' Senior High School

Address/Location: PO Box 61, Cape Coast, Ghana

Phone: +233 50 228 8449