Things You Must Do After Seeing Your JAMB Result, 10 Steps to Admission Success | Many candidates usually ask the question, "what next after JAMB?" or what do I do next after seeing my JAMB result?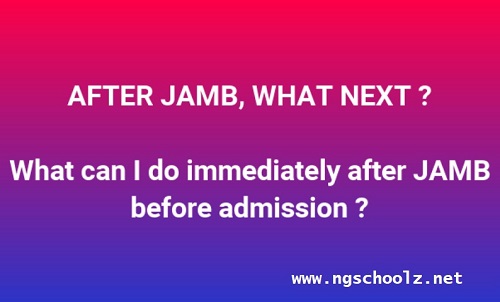 What next after Jamb and when will Jamb start giving admission? This is another question asked by two sets of persons; those who failed Jamb And those who passed.
For those who failed Jamb, it is very simple. Get a job or learn skills even as you prepare for next year Jamb.
Also, understand that failing Jamb is not the end of life and it doesn't mean that you are a failure. Time and chance happen to everything. You can still make Jamb and Gain Admission if you mean it.
For those who passed Jamb, it is not the end of the journey. You must put structures in place so that you don't fail to gain admission. After all, passing Jamb is not a guarantee that your admission is sure.
The Joint Admission and Matriculation (JAMB) result for this year has been released online, and most candidates have already checked their results. While many students are smiling home with high scores, others are thinking about what they will do with their low scores, since some schools cut off marks starts from 180 and above.
See Also: Top 15 Federal Universities In Nigeria That Accept 180 In JAMB
Take note that no matter your scores, you still have the option of securing admission in your school of choice.
10 Things To Do After JAMB 2023 UTME
Back to the question, what next after Jamb? That's exactly what I am about to teach you. Take a glass of water and let's begin.
1. Check Your Score And Your Choice Institution:
Check your Jamb score and see whether it can take you to your choice of institution or not. If yes, good… But if no, go to number 3.
One thing is certain when you know the JAMB cut off Mark for your school, this will help you know if you will be qualified for your school post utme examination or not.
See Also: JAMB Result: How to Check 2023 JAMB UTME Results Online
2. Check Your Course And Cut Off:
After confirming that you have crossed your school's general cut off mark, the next step is to see whether you can be admitted with your score.
This is the first thing you are required to know. It will help you know if you are qualified for admission in your school of choice or not. Institutions cut-off mark is in two categories;
(a) The general cut-off mark: the least JAMB score you are required to obtain before you are qualified for admission into the institution.
(b) the departmental cut-off mark: This is the least score you are expected to obtain before your can qualify to be admitted into the course or department you applied for. Usually, most schools announce their admission cut-off marks when announcing their admission screening exercise. If you wait till that time, it may be late. This is because you need to have an idea about the cut-off mark to be able to know if you are to change your course or institution before it closes. So what you need to do is to check out the school's previous cut-off marks and the determine if you stand a chance or you need to go for change of course and institution.
3. Consider Whether To Change School Or Course:
If your score is not enough for your first choice school, then consider getting a change of institution form.
If your JAMB score is not enough to secure you admission into the course or institution you applied to study, then you will need to do a change of course or institution. In changing your course and institution, two things you should bear in mind are;
a: The course you want to change to must be a course that is in line with your UTME subject combination. For instance don't change to a course like Biochemistry when your UTME subject combination is English, Mathematics, Chemistry and Physics . This will not work because to study Biochemistry, you need Biology as one of the UTME subjects.
b: Ensure that the institution you are changing to can accept your UTME score and offers the course you want to change to.
Once you have confirmed the above information, you can now proceed to apply for change of course or institution. The detailed information concerning JAMB change of course and institution is contained on this link: JAMB Change Of Course And Institution – When And How To Apply For It click on the link to read up the procedure in case you need to change your course, institution or both.
4. Be Patient:
After Jamb, there usually this zeal to go to school. And you are like, "my school should release admission list na". Calm down so that your blood pressure doesn't rise above normal.
5. Enjoy Yourself:
I know that so many aspirants will be on fast until their names are in the admission list. This is not necessary.
You are not the one to admit yourself. Therefore, "leave trash for lawma". If you have done the necessary things, then forget that you wrote Jamb and continue with your life.
6. Learn A Skill:
Jamb releases first batch admission status around September. You don't have to waste time. Develop yourself.
7. Be Updated About Your School's Screening Date:
Sign up to my newsletter below this article so that you don't miss any information concerning your school's online and physical clearance, plus other admission updates.
For you to be qualified for admission into any institution in Nigeria, you will have to apply for the institutions admission screening exercise. Most schools usually announce the sales of their admission screening forms between June and August.
You have to stay up to date as not to miss your school's admission screening form. We will do our best to ensure you do not miss any information concerning your school's admission screening. So always check this website constantly for the admission screening information of your school of choice.
8. Learn About Your School's Calendar, Admission Process And School Fees:
You need to know what's up in your school of choice. Remember, it is what you have in your head that takes you ahead.
See Also: Admission Screening/POST UTME Form For All Schools
9. JAMB Statistics for your School
Are you aware that JAMB always releases all schools CBT Statistics, which include numbers of students looking for admission into your school of course and department?
This knowledge will give you full information, about the numbers of students who choose your course in your institution of choice.
Take note that this information would rather booster your urge to read more and score high in your POST UTME examination!
10. Buy Post UTME Past Questions and Start Reading
After knowing your school cut off point, the next time to do is to prepare for your post utme examination, and if you should follow our suggestions, you should buy your school POST UTME past questions and Answers, to study them and get prepared for your next challenge.
See Also: Download All School Post UTME Screening Past Question and Answers Here
---
Copyright Warning:
Contents on this website may not be republished, reproduced, redistributed either in whole or in part without due permission or acknowledgement. All contents are protected by DMCA.
---
The content on this site is posted with good intentions. If you own this content & believe your copyright was violated or infringed, make sure you contact us via This Means to file a complaint & actions will be taken immediately.
---
Tags: Admission Process, Admission Tips, FUTO Post UTME Past Questions And Answers, JAMB Cut Off Mark, JAMB Result, Joint Admissions and Matriculation Board | jamb.org.ng, Post UTME Exam Date, Post UTME Past Question, Post-UTME Past Questions and Answers, Screening Exam, Screening Question And Answer, Steps to Admission Success