Top Bad Loan Apps and Lenders in Nigeria To Avoid. Are You Looking For Where And How To Get Collateral-free Personal Loans Online in Nigeria? Here Are List Of Loan Apps You Can Use And The Ones You Should Avoid.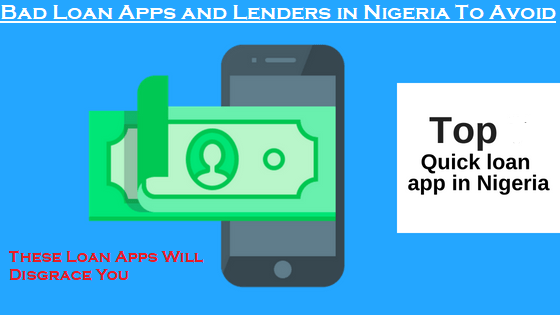 Currently in Nigeria, at least 90 million people live in extreme poverty as the hand of the World Poverty Clock ticks furiously. In 2020, many Nigerians were expected to sink deeper in the sea of abject poverty as crude prices dipped and the COVID-19 pandemic gave the country's floundering economy further pounding and in no time, Africa's largest economy by gross domestic product slipped into a recession for the second time in five years. It is not uncommon for many hungry Nigerians to borrow as little as ₦500 from a neighbour, friend, or relative.
Avoid bad loan providers that can frustrate your life, any mobile loan app that asks you to pay more than 100 Naira to get a bigger loan up to 50k as a service fee is a scam, run and uninstall it immediately. They don't even offer a loan but gains access to your debit card details and later refer you to other loan providers, be wise.
I know how easy things have become when you need small money to take care of an urgent need, it only takes a few clicks on your phone and you will get an alert. No more insults from your friends, no one even needs to know that you are broke.
I have been monitoring all these mobile loan apps targeting Nigerians to see how every one of them works. Let not forget that I once listed the best mobile loan apps in Nigeria but today I am going to share the list of bad loan apps you should avoid by all means or you regret ever knowing them sooner or later.
Let me tell you, 50% of the loan providers are not there to help you but to frustrate you in such a way that you will regret your life. Moreover, when it comes to a loan, it's all business but being too greedy and extorting money from desperate and helpless Nigerians in such a manner is unacceptable.
I am not trying to condemn any loan provider unjustly but after seeing what most of them are doing, I decided to warn people to stay clear from them or have themselves to blame at last.
Thanks to CBN for introducing a bank verification number (BVN) which brought the birth of a quick online loan without any paperwork. Most times I don't download loan apps because I need a loan but for me to be able to review them I must download and borrow from them no matter how little.
I will explain the reason why you should avoid any loan provider that appears in my list of bad loan apps in Nigeria. The details will come after the list but remember it's just a suggestion, you can decide to use the loan apps or not, but I have investigated them on my own, and I have a good reason why I said you should avoid them totally.
How to identify bad lenders (bad loan apps)
I repeat being bad doesn't mean that you can't get a loan from them but how they operate is the real issue and if you care about your respect and peace of mind, then avoid them. Below are the signs of a bad loan
Higher interest rate
Shorter loan duration like (7-14 days)
Bad lenders will create a service fee and interest differently
They treat their customers like trash
They send out abusive messages to all your contacts when you default even for a few hours.
Can start a fight even before the loan expires
They charge for card verification before approving a loan
Some don't offer a loan but refer you to other apps and charge for services fees
Below is the mobile loan app you should avoid. Meanwhile, I am going to explain why you should avoid them because they will only frustrate you sooner or later.
1. Sokoloan
Sokoloan is not just a mobile loan app that you can use to borrow money but a loan company with more than 3 different mobile loan app that serves the same purpose. Yes, you can use them to get a loan, but they are unprofessional in what they do, and if you are not careful you will regret ever knowing them.
How come a company created a different loan app instead of improving only one, who told them that Carbon achieved great success and now becomes the best in Nigeria by creating multiple loan app. The reason is simple if you have an issue with one of the apps you will still end up using their other app unknowingly.
Sokoloan and its affiliates are there for real business and they don't care who bears the pain or who you are, their interest and customer support is like a death trap. When you go to Google play store, they have good rating and reviews because they paid foreigners to give them 5 stars and most times they force their users to give them a 5-star rating to increase their chance of approving their loan.
I will not be able to explain what all these loan providers are doing one after the other but anyone that you see on the list below should be avoided. Most of them even belong to the same loan company (Sokoloan) while some don't but they are terrible to do business with.
Example Of Sokoloan Embarrassment Message:
"This is to inform the general public that (name)(phone number) is a chronic debtor on the run with company money. Consequently, it is advised to stay away from him until he is arrested."

"Suspected criminal by name(xxxx) with phone number (xxxx) carted away with company's money and the police are out searching. Please notify us if found, or contact any of the family members please."
2. 9Credit
Never try this loan app if you love yourself and your reputation because they don't mind sending messages to all your phone contacts telling them that you are owing them and even tag you thief and fraudster even if it's N3000.
However, they are very greedy their interest rate is very bad, imagine offering you N4000 to pay N6,500 in 7 days but if you have to don't even miss a second in repaying the loan or you will have yourself to blame.
3. NairaPlus
I don't see much difference in all these mobile loan apps, they are just there to add to your problem not actually to help you because their interest rate is not favourable at all and their loan duration is equally bad. Don't use your hand and put yourself into trouble or you will learn the hard way.
4. Go cash loan app
Go cash is another bad loan app you should avoid by all means if you care about your reputation and it's equally a bad alternative because their interest rate and loan duration are like a scam to me.
All these loan providers are too greedy and should be avoided because they are not actually helping you but worsening your problem. Run from any loan that doesn't offer at least 15-30 days with a fair interest rate.
5. 9jaCash
I don't even know what to say, they are just there same doing the same thing to helpless Nigerians that needed urgent money to take care of one or two things. Their interest and loan duration is not favourable.
They all use the trick that you should build a good loan credit before you can enjoy a good interest and longer loan terms but even after using them 10 times you will still be where you are. Avoid them and look for a better option
6. LionCash
No matter how urgently you need money avoid LionCash, they can threaten you even before the loan duration, they are rude and mannerless, the worst is that their interest and loan terms are not favourable at all and yet their customer's service is very unprofessional to deal with.
Don't say had I known at last because when you are desperate to get the money you don't even think about the implications until later. Moreover, I am not only asking you to avoid all these loan apps because of their unprofessional treatment towards their customers but because their loan offers and duration are death traps and not actually a solution to your problems.
7. GMoney loan app
GMoney mobile loan app can be used to borrow money when you are in trouble but try as much as you can to avoid them because their interest and loan duration is not in your favour. They are greedy and ready to threaten you at anytime
If you must borrow from any of the apps I listed above then make sure you map out a solid repayment plan because they are not considerate and not ready to hear whatever you have to say unless you want then to tell all your family and friends in your contacts that you are owing them. They can even tag you as a thief and fraudster.
8. Fast Money loan app
Fast money is not different or better from other bad loan apps listed, and if you use them then be ready to face one issue or the other, the worst is that their loan interest and duration are very bad and should be avoided.
No loan provider has the right to threaten their customers and send abusive text messages to all their phone contacts but it seems they don't care about anything but ready to go any length even to hurt you to recover their money so be ready for what is coming next if you don't stay clear from all these unprofessional lenders that can frustrate your life.
9. ICoin loan
ICoin is not that bad, but their mode of operation is terrible, I don't know if you are the type that can borrow a loan without any intention of paying back, never try that with any loan provider whether good or bad ones because it's awful and can put you into trouble.
However, I understand that you might face unexpected challenges that might force you to default from the loan you borrowed. Putting that into account I suggest you don't try using Icoin as an alternative for a quick loan because you will be paying up to 1000 for every day you failed to pay your loan and it's not negotiable you must pay it afterwards. They don't consider any circumstances but their money.
10. Getcash loan app
Get cash mobile loan app should be avoided by all means because they are one of those loan apps that doesn't care about your previous performance using their services but any little mistake they will threaten and send text messages to your contacts and tell them that you are owing them.
Apart from that their interest and loan duration air very bad and not in your favour as a borrower. Avoid them if you want to have peace of mind. Your reputation worth millions so avoid them and don't allow any loan app to destroy your image for whatever reason.
I will stop the list here but there are more than 50 bad loan apps presently in the Google play store. I know how desperate you might be when you need some help but has no one that can help except getting some quick loan from these companies. However, try as much as you can to avoid the bad ones or you will regret it later.
Beware of scam loan apps that don't offer loan at all
I have seen many scam loan apps that don't offer a loan but will charge you between 1000 – 5000 as a service charge with the promise of giving you between 50,000 – 500,000 with a 1% interest rate. They are fraudsters that don't offer a loan but refer you to other loan providers after registration. You also risk your money when you provide your ATM details to them.
Please never try them or you will cry at last because the little money you have in your account will be wiped out gradually.
Even Google can no longer help differentiate between good and bad mobile apps. However, the options google uses to differentiate between good and bad app from their play store is through users rating and reviews but trust me that method has been defeated by fraudsters with evil intentions
Facebook on the other side is the worst, they don't actually care about who you are or what you do as long as you have few $$ to spend on their adverts
Best mobile loan providers so far in Nigeria
While listing the bad loan app, I guess it will be helpful to list then best loan providers in Nigeria that will give you peace of mind but you must remain faithful to them to enjoy the best loan offer without any paperwork.
You can enjoy a longer loan duration and the lowest interest rate you can ever get in Nigeria. They are designed to truly help you when it matters most and they are not greedy compared to the ones I listed above.
1. Carban loan: Carbon is incomparable and currently the best in Nigeria, however, getting approved might not be easy but once you succeed you will know why they are the best.
2. Branch loan: branch is also a loan provider you should stick with, they are one of the trusted and best loan provider in Nigeria. As they say, nothing good comes easy just pray to be approved and you will enjoy the lowest interest rate and longer loan duration.
Other good loan apps are:
Fairmoney.
Aella Credit
Migo. money
Quick Check
OKash
New credit
KashKash
MoneyPal
My advice to everyone who is reading this to try as much as possible to make do with what you have but if you can't, lending from an individual is by far better than lending from these companies. As one of the reviews read, "if you love your peace, avoid this app". Save yourself, save your reputation. Avoid Sokoloan, 9ja Cash, Fast Money, Get Cash, GoCash and the likes! Avoid them like a plague! Do not let desperation lead you into a trap.
Have you used Sokoloan or 9ja Cash? What Share your thoughts!
---
Copyright Warning:
Contents on this website may not be republished, reproduced, redistributed either in whole or in part without due permission or acknowledgement. All contents are protected by DMCA.
---
The content on this site is posted with good intentions. If you own this content & believe your copyright was violated or infringed, make sure you contact us via This Means to file a complaint & actions will be taken immediately.
---
Tags: Bad Loan Apps and Lenders in Nigeria To Avoid, branch, carbon, is sokoloan real, loan app, loan apps, loan apps in nigeria, loan in nigeria, sokoloan, sokoloan harassment, sokoloan loan extension, sokoloan nairaland, sokoloan requirements, sokoloan review, sokoloan whatsapp number, sokoloan/defaulter