Is it valid to use paraphrasing to avoid plagiarism?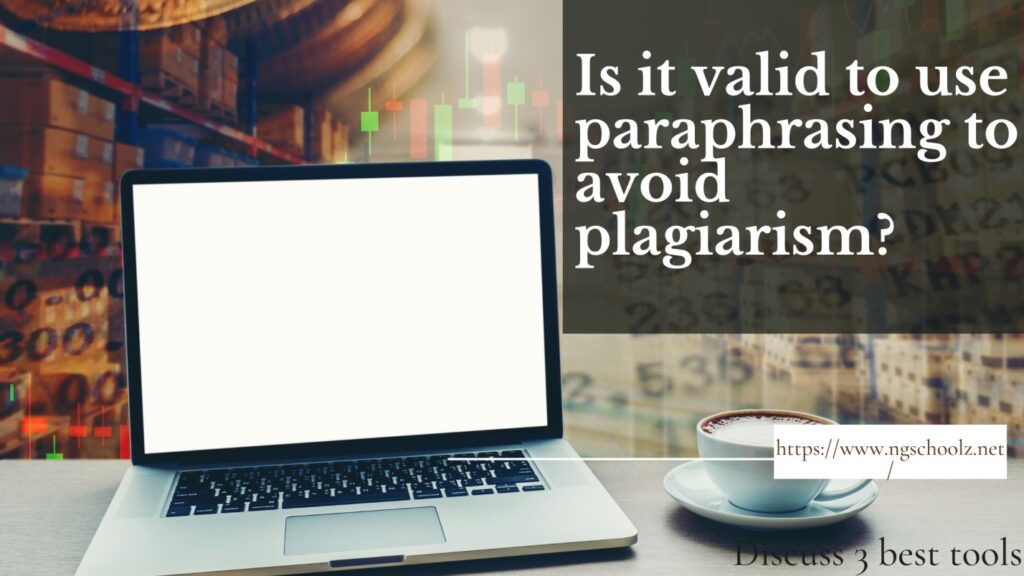 Every one of us has encountered some work that requires creative writing. The best example of this encounter is school and university level where we all had made dozens of assignments.
A lot of research and data compilation is being done by us. After all that grind the results are just satisfactory, not excellent.
But today the era is of smart work. People use loopholes for every work that not only provides good results but also saves time.
Writing tools  are the loopholes. With these tools, we can write content easily or can make long essays and texts without taking time and spending much energy. These tools are called paraphrasers.
What is Paraphrasing?
Paraphrasing, as its name shows, is rephrasing or rearranging an existing statement. As a writing technique, paraphrasing is when you put a person's ideas or thoughts in your own words.
Regarding protocols and infringements, paraphrasing is allowed and valid for writers to paraphrase. The main purpose of paraphrasing is to evade plagiarism from your writing.
Moreover, to correctly paraphrase, you need to understand the main idea of the original writing, as paraphrasing involves copying the text's main idea and reproducing it in completely new words and sentences.
Can paraphrasing be used to avoid plagiarism?
Paraphrasing is valid and acceptable in writing only if it is done correctly. Using someone else's content wrongfully shouldn't be the goal of the writers rather the intention must be to express a concept differently and more clearly.
If the sentences are structured or worded similarly to the source text, it will be considered plagiarism instead of paraphrasing. Paraphrasing in this manner is unethical and should certainly be invalid.
Although paraphrasing won't be considered plagiarism, it is fine to paraphrase a few paragraphs. However, this shouldn't be your permanent practice. It's not something you should always do. Original content should be created by a writer instead of using other people's ideas.
Please keep in mind that there is a significant difference between taking inspiration from some other author's writing and paraphrasing some other author's content.
Rather than directly copying and paraphrasing, you should merely gain knowledge from some content and come up with a completely original way to present it.
Inspiration is a necessity for improving writing style and a paraphrasing tool can help to boost it. You must know that praphrasing becomes easier with the aid of an AI-powered tool.
Interestingly, using an online paraphrasing tool is not considered invalid since the resulting sentences have a completely new structure and contain unique words.
The paraphrasing tools works just like manual paraphrasing but they are much more reliable, faster, and better.
Here we will have a detailed discussion on the 3 best paraphrasing tools that are valid to avoid plagiarism in academic writing and website content.
 3 Best Paraphrasing Tools to Avoid Plagiarism
A paraphrasing tool, also known as an article rewriter or sentence rephrase, is capable of rephrasing your content to a desired level of uniqueness while maintaining the original meaning.
Plagiarism removing tools are useful if you are uncertain about your writing skills and unsure how to change the structure of your content while retaining its meaning. Furthermore, these tools are also helpful for those who struggle to think critically or type rapidly.
Let us provide you with in-depth insights about the 3 best paraphrasing tools that you can leverage to avoid plagiarism and achieve uniqueness in your writings.
Editpad
Editpad helps you to make notes and assist in paraphrasing content. Like all other tools, you can paste your text or can upload files for paraphrasing. While paraphrasing it will make sure that the idea remains the same and errors are removed.
This paraphrase online tool also has multiple features. While paraphrasing also checks for plagiarism. All the copied material is rephrased or summarized just like the manual and human style.
The files that you generate here can also be shared on other platforms directly. You can download your results in the form of a file. The paraphrased notes that you make here can also be protected by setting a password.
Paraphrased material can also be converted to handwritten text. This tool is free. It does not require any registration process. Moreover, there is no word limit for rephrasing.
The interface is very engaging and usage is smooth. The data is completely secure here. As it is a packaged software you can use it as a text summarizer, citation generator, and text editor solely.

Spinbot
With Spinbot, you can rewrite your content by typing or pasting directly into it. Although it comes with advertisements, the tool has a smooth, simple and easy-to-use interface. Once you move past the Ads, paraphrasing becomes relatively easy to do.
Upon submitting a request, the Spinbot system automatically rewrites the text. In case you don't want some important parts of your text to be rewritten then by using the Ignore Any tab, you can specify the keywords to ignore while paraphrasing.
The default settings for Spinbot do not capitalize words. By doing so, you retain capitalized words such as titles, proper nouns, and the first word of every sentence.  To change this setting, check the Spin Capitalized Words box so the tool will parse and evaluate all the words in your text.
The free version of this tool paraphrases up to 10,000 characters. Anyhow, it will feature advertisements and a captcha box. There are no extra performance features in the premium version, but you surely get access to ad-free and captcha-free interface.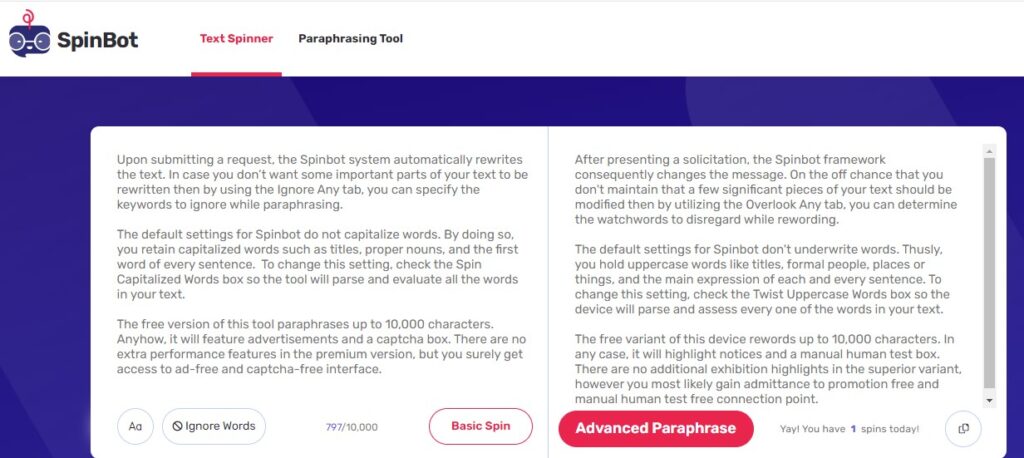 Wordtune
Wordtune is one of the most powerful AI rephrasers that rewrites content on a phrase and sentence level. It quickly rewrite the given statements in improved and completey unique wording.
Its a multilingual tool that enables you to translate your text from Spanish, Mandarin, Arabic, Hindi, Korean, Hebrew, or Russian into English and then rewrite it as required.
Regardless of the language type, it accurately understands the context and rewrite the given content with human-level precision. It gives you the 10 different options to choose according to the required style, tone, and voice.
You can easily modify the diction and change the writing style. For instance, if you need to rephrase a statement for an academic assignment then you can leverage its formal mode to rewrite in more clear and concise wording.
You can access Wordtune for free of cost but it's free version will enable you to rephrase a limited number of sentences per day.
Features:
It is a AI-powered tool that give pertinent suggestions for the improvement of writing skills
It provides 10 different writing alternatives to choose from (according to your requirement)
Its is useful for educational institutes and businesses to rephrase sentences for better communication
It gives only 20 free rewrites per day
Its premium version has more advanced features such as multiple rewriting modes
Its premium versions enables you to modify writing style e.g formal, shorten, expand
Its premium version gives access to unlimited rewriting
It is available as Google chrome extension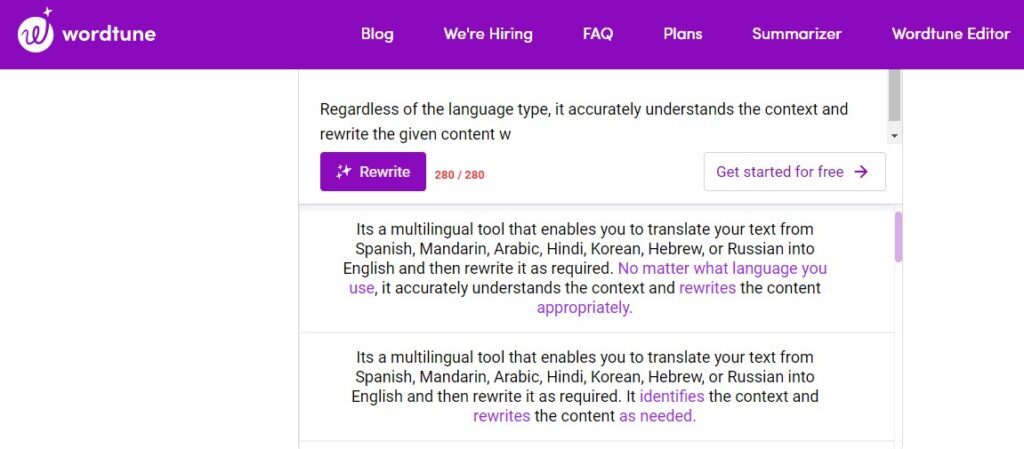 Bottom Line 
Paraphrasing is considered valid to remove plagiarism if it is done with highest-level of precision.
Moreover, if you use a paraphrasing tool then it must be efficient, accurate, and safe or else, the rewritten content will not completely free from duplication.
---
Copyright Warning:
Contents on this website may not be republished, reproduced, redistributed either in whole or in part without due permission or acknowledgement. All contents are protected by DMCA.
---
The content on this site is posted with good intentions. If you own this content & believe your copyright was violated or infringed, make sure you contact us via This Means to file a complaint & actions will be taken immediately.
---